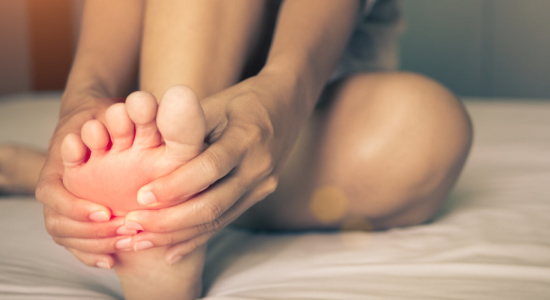 Daily doses of EVNol SupraBio™ – a bioenhanced full-spectrum palm tocotrienol complex sourced from Malaysian certified sustainable palm oil – may reduce severe pain (lancinating pain) in diabetic neuropathy patients, according to researchers at the University Science of Malaysia.
This Vitamin E Neuroprotection Study (VENUS) was a randomized, double-blind clinical trial focusing on diabetic peripheral neuropathy (DPN), as the management of this painful neuropathy has been a challenging issue. It is the largest tocotrienol human clinical study so far, involving 300 DPN patients.
The patients were first assessed with Total Symptom Score (TSS) and Neuropathy Impairment Score (NIS). One group of patients received capsules of 200 mg mixed tocotrienol (EVNol SupraBio™), while another group received placebo capsules containing tocotrienol-free palm oil, twice daily. The mean differences in TSS change as well as change in NIS after 6 months and 12 months supplementation were measured. For clinically meaningful responses to the treatment, a minimum reduction of 1.83 in the TSS and 2 in the NIS has to be achieved.
The group taking tocotrienols achieved clinically meaningful responses of reduction in the TSS with a reduction score of 3.30. There was also no apparent damage in sensory nerve conduction based on NIS test. These TSS and NIS scores for patients receiving tocotrienols however showed no significant differences with the placebo group. This neutral finding may be due to the prominent placebo effects besides the variability in diabetes status and lifestyle management making it difficult to obtain significant observation.
However, one of the TSS components is the measurement of lancinating pain, which is a feeling of deep-seated, acute pain in DPN patients. A post hoc subgroup analysis observed that EVNol SupraBio™ tocotrienols reduced lancinating pain in some DPN patients. This result leads to a new hypothesis on lancinating pain and warrants a future study to elucidate the mechanism in which tocotrienols modulate this acute pain.
A study published in Diabetes Care in 2003 reported that 27 percent of the $245 billion spent on diabetic healthcare in the U.S. was attributed to DPN.2
"Neuropathic pain is a chronic pain caused by neuronal dysfunction. Severe pain could affect quality of life. There are several mechanisms in which this pain could occur, which are increased activity of 12/15-lipoxygenase and altered expression of voltage-gated sodium channels in the peripheral nerves. Tocotrienols have potential in reducing lancinating pain through modulation of these mechanisms. Further study on these mechanisms are essential for lancinating pain management using EVNol SupraBio™ bioenhanced full spectrum tocotrienol complex," says ExcelVite Nutritionist Diyanah Roslan.
ExcelVite Business Development Manager Bryan See adds: "Worldwide, 382 million people suffered diabetes, and DPN can affect almost half of the diabetic population. Each year, the U.S. spends roughly 66 billion on DPN patients. If EVNol SupraBio™ could help in reducing lancinating pain in DPN patients, it would be beneficial in terms of time and money invested on DPN, besides providing improved quality of life of the patients. In addition, even better, supplementary tocotrienol could also help in supporting healthy liver and metabolic health."
Article source: Palm Oil Health