For 13 years, the Louisiana Cancer Foundation has financially supported breast cancer research at the University of Louisiana Monroe with donations totaling $117,500. Tuesday, Dr. Paul Sylvester, Associate Dean of Research in the ULM College of Pharmacy, accepted a $10,000 donation from LCF Executive Director James Adams.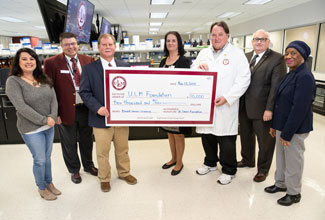 Sylvester explained the focus of his research is nutrition-based, specifically a form of vitamin E. "Our laboratory has been involved in breast cancer research for many years and our current interests include examining the relationship between nutrition and cancer, with particular emphasis on understanding the intracellular mechanisms mediating the anticancer effects of tocotrienols, a rare form of vitamin E," he said. "The ultimate goal of this research is the development of tocotrienol-based therapies that can be used in the prevention and treatment of breast cancer in women."
Read the full story here. The photo was taken from The University of Louisiana Monroe.